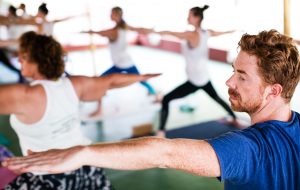 Here at The Dublin Creative Therapy Centre we are pleased to announce the launch of both individual and group yoga classes in the centre from May 2018. We are greatly aware of the importance of physical movement in maintaining positive mental health and in cultivating self awareness and balance in our lives. Yoga offers a unique insight into the mind, body and spirit connection.
Our Teacher John O'Malley has just returned from India where he had completed his 200 Hour TTC at the Himalaya Yoga Valley Centre which is internationally recognised and registered with Yoga Alliance Professional UK, Yoga Alliance USA, International Yoga Alliance, World Yoga Council and the International Yoga Federation.
Our beginner classes offer a safe, nurturing and inspiring setting to begin your yoga journey. Over the weeks you will begin to understand basic yoga techniques and the foundation poses to help you feel confident in gradually developing your practice.
You will be guided through the following:
Brief background on what yoga is, and our style
An introduction into Pranayama breathing techniques
Foundation postures and how to adapt them to your needs
How linked postures work together to create a flow
How to  modify postures uniquely to your body.
Classes will commence every Thursday from the 24/05/2018:
Where: The Dublin Creative Therapy Centre, Great Demark Street, Dublin 1
Time: 19:00 to 20:00
Cost: €15
For more information regarding private classes or application forms please feel free to contact The Dublin Creative Therapy Centre via email at info@dublincreativetherapy.ie or by phone on 087 979 0486
We look forward to hearing from you!