John is all fully registered members of the Irish Association for Creative Arts Therapies and adheres to their code of ethics. John holds professional indemnity insurance and has completed child protection training. His work is clinically supervised offsite with a registered supervisor and he regularly partakes in continuous professional development training and education.
John O´Malley, MA, BA, MIACAT, ANCAD
Art Psychotherapist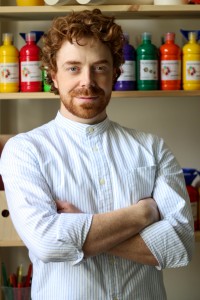 John qualified as an Art Psychotherapist with a First Class Honours from the Crawford College at the Cork Institute of Technology in 2010. John was an elected member of The Executive Council for The Irish Association of Creative Arts Therapies in Ireland from 2013-2016. Previous to this he holds and BA. (Hons) from the National College of Art and Design. He is a fully registered member of The Irish Association of Creative Arts Therapists.
Since his training John has worked within a variety of client groups including, children, Adults, families and mental health settings. He has also run successful corporate and group workshops within some of Dublin's multinational corporations which include Facebook, Google and Accenture delivering creative wellbeing programmes.
John works from a humanistic, holistic and client centred approach. In his work he utilises the power of creativity and free expression to assist those whom may be feeling vulnerable or unable to cope with the many difficulties that life can bring about. John works with the client to assist them on a journey of self discovery, enabling a mindful, healing space where the individual can begin to acknowledge and reaffirm a sense of self and ultimately breaking the cycle of negative thoughts and instead pave the way for a brighter and positive life experience.