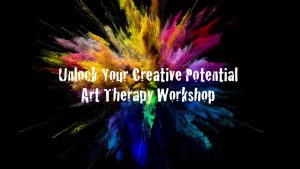 "Who looks outside dreams;
Who looks inside, awakes."
Carl Jung
The Dublin Creative Therapy Centre is pleased to present 'Unlock Your Creative Potential' an art therapy workshop designed to transform your creative blocks into building blocks upon which you can begin to unlock your innate creative potential. This workshop is for dreamers, adventurers, lovers, creatives; for anyone with a passion, desire or a wish to connect creatively with the self on a journey of discovery.

ABOUT
This one day workshop will use art therapeutic techniques by way of both individual and group experiential work. The language of visual art-colours, shapes, lines and images- speak to us in ways that words cannot. Art therapy is a modality that uses the non verbal language of art for personal growth, insight, and transformation and is a means of what is connecting inside us- our thought, feelings and perceptions- with outer realities and life experiences. It is based that images can help us understand who we are and enhance our lives through self expression. Within this workshop we will be mixing meditation, personal journaling and intuitive art making in the quest to unlock your creative potential.
This is an experiential workshop facilitated by John O'Malley, Art Psychotherapist, MA, BA, MIACAT, ANCAD.
No experience needed! Material's provided. Spaces are Limited.
Advance booking and further information from:
info@dublincreativetherapy.ie
No art experience necessary!
Art Materials and Light refreshments provided.

Cost: €80.00

(Places are limited so early booking is reccommended.)
Please follow the link below to register for this event:https://docs.google.com/forms/d/e/1FAIpQLSdo09X48UfJlQMoPFK6kUUNk08LLb8JvcJbnUy90i3Ncv3hWA/viewform?usp=sf_link