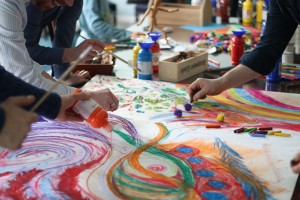 The Dublin Creative Therapy Centre is Pleased to announce its upcoming Art Therapy Process Group
Venue: The Dublin Creative Therapy Centre, No.3 Great Denmark St., Dublin 1
Date Commencing: 04/10/2016
Time: 6.30pm – 8pm
Cost: 12 weekly sessions @ €300.00
For an information/application pack please contact the office at:
info@dublincreativetherapy.ie
At the Dublin Creative Therapy Centre we offer a range of therapeutic group processes and workshops. Group art therapy offers an integral component in personal development, in both ones ability to express oneself confidently and in listening and respecting others in a safe and confidential space, which is facilitated by one of our fully trained and qualified arts therapists.
Within art therapy groups, individuals come together in the same space to create art individually, or collaboratively in the creation a of a group image/sculpture. Members have to communicate, negotiate and compromise in coming to a consensus in creating something together. There is time for both art making and for members to discuss their art and their experience. Many participants find art therapy groups less threatening than verbal groups as the focus is on the art image and not on them. The intent of working in such a fashion is to experience group dynamics and gain insight, providing opportunities for active involvement, risk taking and unique self-expression.
Group art therapy has the potential to change our perceptions of who we are and gain greater insights into ourselves and our interactions with others.
Benefits of Group Work
Self esteem/confidence
Insight into interpersonal relationships
Communication Skills
Personal Development
Social Skills
Opportunities for sharing with those who have experienced similar