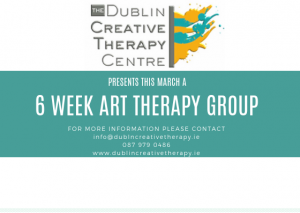 The Dublin Creative Therapy Centre
Present
A 6 week Art Therapy Group.
Venue: The Dublin Creative Therapy Centre, No.3 Great Denmark St., Dublin 1
Date:    12/03/2019 – 16/04/2019 (every Tuesday evening)
Time:    7.00pm-8.30pm
Group art therapy offers an integral component in personal development, in both ones ability to express oneself confidently and in listening and respecting others in a safe and confidential space. Group art therapy offers a unique experience in better understand ourselves and the World around us. It allows for meaningful reflection within a creative and supported environment.
Within art therapy groups, individuals come together in the same space to create art individually, or collaboratively in the creation a of a group image/object. Members have to communicate, negotiate and compromise in coming to a consensus in creating something together. There is time for both art making and for members to discuss their art and their experience.
Benefits of art therapy group work include:
*Meditation/Mindfulness
*Self-esteem/confidence
*Insight into interpersonal relationships
*Communication Skills
*Personal Development
*Social Skills
*Opportunities for sharing with those who have experienced similar life experiences.
*Creative expression in a non judgemental environment.
This art therapy group will be facilitated by art therapist John O'Malley, MA, BA, MIACAT, ANCAD. John has over eight years experience in facilitating art therapy groups.
Art Material's and light refreshments provided.
Places are limited, advance booking and further information available from:
info@dublincreativetherapy.ie 
Cost: €230.00
Deposit: €100.00
Please follow the link below to register for this event:
https://docs.google.com/forms/d/e/1FAIpQLSctrSJ-nthr2E70Iduwy2W5rwtP8NNzUucaMwXta7G7ZF71tA/viewform?usp=sf_link